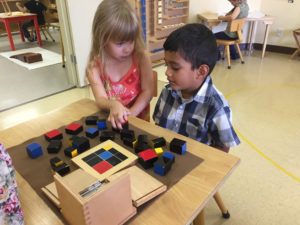 Growing up in a Montessori environment is like being in a family. When children enter into the Kindergarten and Extended Day Program, they often become the child teacher who learns by teaching, reinforcing their knowledge by showing what they know to a younger child. The children care for each other while at the same time caring for the environment together. The classroom is the children's place, a small society, a place where they can learn, clean, love and enjoy.
Much like the "grand finale" of a child's learning and discovery, the program marks the passage from early childhood to childhood. As children grow and develop in a Montessori environment, they eagerly anticipate being in the extended day program and becoming one of the "older children".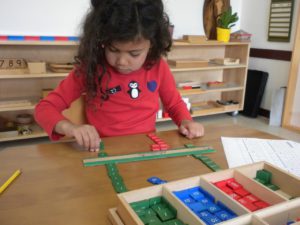 The children not only take on complex, challenging work but also begin to assume responsibilities, such as setting up tables and chairs for lunch, demonstrating table manners, maintaining the classroom cleanliness after lunch and perhaps returning to a great piece of work that was started earlier in the day. These children foster a deep love for advanced work, such as reading and mathematics, with great confidence and enthusiasm. In the third year, work becomes mature and the child feels dignified and grown up.
In the afternoon, the children have more opportunity to speak, listen and work in a group, which prepares them for the elementary level of work. Children get to choose what they work on without interruption and are able to correct themselves with reference materials in the environment independently or in a small group. The program empowers the children to do a myriad of activities, reading, writing, advanced math work, art designs, outdoor play, and music composition.
In a Montessori environment, teachers are prepared for spontaneous interests with the children. The teacher sees where the children's interests are and follows that interest in order to nourish it and elevate it.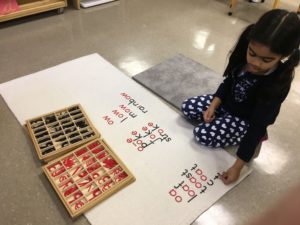 The older children truly enjoy the complexion of learning and love taking on challenging work. They become more and more interested in the world around them and that is why we bring the world into the classroom. In geography, the children delve into various countries in each continent, learning to appreciate different cultures, customs, and traditions. In depth learning about botany and zoology enrich the children's minds by fulfilling their curiosity about the nature. The learning of geometry in a Montessori environment prepares children for advanced studies by introducing equivalency, congruency and similarity.
Children have the opportunity to explore language through creative and fun activities, building a solid foundation of grammar, syntax and vocabulary. Mathematics is taken to another level in the program as children have more time to pace themselves and to take on elaborate work which requires a great level of precision and concentration.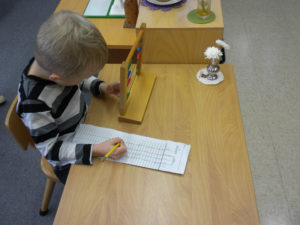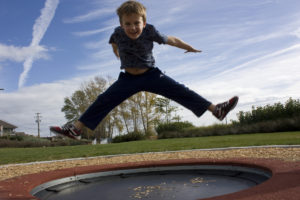 Apart from the independent endeavor, children also have more time together to engage in interesting group work discovering mathematical concepts. Moreover, the children engage in different types of physical activities everyday, integrating their body and mind, which helps them find joy in learning and developing.
As children have completed the Montessori preschool experience in total, they will truly be able to approach future education, whether it be public or private, Montessori or non Montessori, with confidence, good skills, a sense of individuality and profound gift of understanding and loving what they have learned over the three years.
[vimeo 204126964 w=500]